Jakarta, October 23, 2023 – Erajaya Active Lifestyle (ERAL) has officially brought the IoT product line from CMF by Nothing, which includes CMF Buds Pro and CMF Watch Pro, to the Indonesian market through their retail network and e-commerce platforms. This initiative is part of Erajaya Active Lifestyle's commitment to providing the latest IoT products that complement the active lifestyle of their loyal customers.
CMF by Nothing is a sub-brand of Nothing that was introduced for the first time in September 2023. Erajaya Active Lifestyle has previously introduced Nothing's products such as Ear (1), Ear (Stick), Ear (2), and Ear (2) Black, which were well-received by Indonesian consumers.
Djohan Sutanto, CEO of Erajaya Active Lifestyle, said, "Through the product range from CMF by Nothing, Erajaya Active Lifestyle aims to fulfill the aspirations of users aged 15-30 who want to look stylish and unique. This also reaffirms our commitment to bringing the latest active lifestyle product portfolio that is relevant to Indonesian consumers. Loyal customers can easily and conveniently obtain these products through our extensive network of stores and other online channels. The warranty guarantee from TAM is an important advantage to ensure that users can use these products without worry."
CMF Buds Pro is a pair of wireless earbuds that provides an unparalleled audio experience, thanks to its 45 dB Active Noise Cancellation that suppresses background noise and Clear Voice Technology, ensuring clear sound for your conversations. The battery offers up to 11 hours of music playback on a single charge, and it can extend to 39 hours with charging from its case.
CMF Watch Pro is a smartwatch with a spacious 1.96" AMOLED display, capable of recording physical activities and comprehensive tracking of up to 110 types of exercises. Its battery allows usage for up to 13 days before the next recharge. This device is equipped with water and dust protection, certified with an IP68 rating, ensuring users can stay active even in heavy rain.
Here are the specifications of the two products above: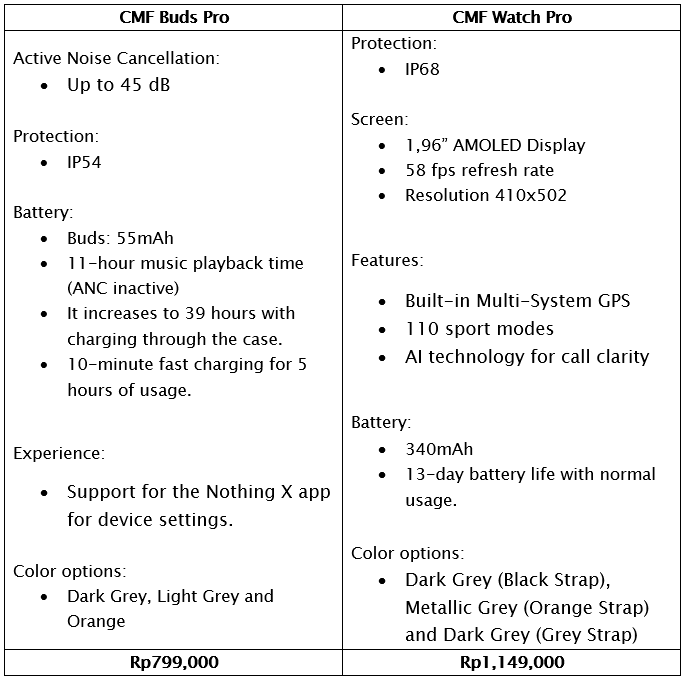 CMF Buds Pro and CMF Watch Pro can be obtained at Urban Republic stores, the Eraspace.com e-commerce website, and the Urban Republic Official Store on the Tokopedia platform.
For further information, please contact:
Didit Putra Erlangga
Corporate Communications Erajaya Group
M: 0811 871 432